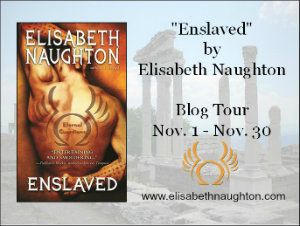 The Secret to Writing a Bestselling Ongoing Series
Thank so much to the crew at Long and Short Reviews for inviting me to stop by today to talk about my latest release, ENSLAVED, which hit store shelves on November 6, 2012.
This is the fifth book in my
Eternal Guardians
series about a group of gifted warriors all descended from the heroes of Greek mythology. They protect their realm and the human world from threats born of the Underworld, specifically one evil goddess with a bad attitude. Each book centers around a different warrior and the woman cursed to be his soul mate. And I don't use the word cursed lightly. While love is never easy for a romance novel couple, it's doubly bad for my guys. They've each been cursed by the goddess Hera with one soul mate: the one woman who is the exact opposite of everything they want and need.
I started writing this series because I've always loved Greek mythology. At the time, no one was writing about the heroes from the myths, and I saw it as an opportunity to do something different. And because I'm a Greek myth buff, I knew I could take those old myths, twist them around and (since these are romance novels and thus must end well) turn the tragedies into happily ever afters. That's not always easy–every book seems to have its own challenges, whether that's plot or characters or tying everything together—but it's twice as hard when you have an overarching plot line that runs from book to book as mine do. And now, five books in, I have a new challenge – keeping things fresh so readers stay interested while at the same time bringing the same elements to the forefront that readers fell in love with in the first place.
I'm not big on rules—in fact, I break most writing rules whenever I can—but there are three I stick to with every
Eternal Guardians
book. My goal—always—is to keep readers invested until the very last book, so I've taken my cues from series I loved but stopped reading 4-5 books in. We've all fallen out of love with a series. Why? What turned you off? While plotting the
Eternal Guardians
series, I asked myself those very questions and here's what I came up with:
1. The focus has to remain on the romance. Too many times, a great series loses focus on the main couple about 4-5 books in. By that point there's so much going on with secondary storylines, the main couple begins to be overshadowed by the suspense or danger or mystery lingering from book to book. I work hard to keep my main couple the focus of each book. Romance readers are reading for an emotional connection, and when there's too much else going on, it's easy for that main couple to get lost. For this reason, a lot of times you'll see my hero and heroine separated from the rest of the group. Whether they're stranded on an island, on the run, or hiding out to stay safe…if they're by themselves, then that means there are more chances to keep the focus on that main couple…and keep the romance hot and fresh and the central storyline.


2. Past main characters and storylines must continue. One thing romance readers LOVE about series is the fact they get to see past characters and catch up with what they're doing. Are they still happy? Have things changed? What's in store for them in the future? For this reason, I know I have to incorporate past heroes and heroines from earlier books into my current stories. They can't overshadow the main romance (refer back to #1), but they can't disappear altogether either. But building on that, I also know I have to incorporate new heroes and heroines…characters who will eventually be the focus of future books. Successful series bring the past, present and future together in ways that make readers crave the next book in the series.

And finally,



3. Good has to triumph over evil. But evil has to endure in some way until the very end. Romance readers want a happily ever after in each book. You can't have an HEA without the main characters beating the bad guy at the end of the story. Therefore, I need my characters to win the battle in every book so readers are left with that smile and feeling of hope at the end of the story, but they can't win the war until the conclusion of the series. Every battle brings them one step closer—just like filling in the missing pieces of a puzzle brings you closer to finding out what the picture really looks like—but it won't be truly finished until the very last book in the series.
It sounds like a lot of work, doesn't it? Not only am I juggling one main storyline, I'm juggling multiple storylines that span numerous books, all in the hope that readers will fall in love with someone from the series so much, they'll buy
the next
book. The truth for me, though, is that I think this way. Sort of sporadic, with tendrils of ideas jutting out in various directions. I don't believe we're alone in this world. People around us impact not only us, but those next to us, so it makes sense that my characters' storylines would do the same. I love shows like
Game of Thrones
and
Once Upon A Time
and
Grimm
because they do this so well. Each storyline builds on the one next to it, and they're all interwoven in intricate and delicious ways we, as viewers, might not see right away. Uncovering those connections is half the fun of watching those shows. It took TV shows a while to catch on to this soap-opera-style-of-writing, but those that have are now among the most successful series running on television.
How many books do I have planned in the
Eternal Guardians
series? Two more for sure in this overarching plot line. But…as I've learned from writing this series…the end isn't
always
the end. At the end of book seven there will be an element that endures…and ties into a whole new overarching plot line that will incorporate characters my readers are still waiting for me to write about. In this way, the storylines will remain fresh, while still giving my readers what they've come to expect. As the bestselling TV shows and book series today prove…if you do it right, readers will continue to want more. My goal is to bring that
more
to my readers with each and every story.
Think about your favorite book or TV series. What do you love about it? What keeps you reading/watching? Share your thoughts with me. I've got a copy of my latest release, ENSLAVED, up for grabs to one lucky commenter!
About the Author:
A former junior high science teacher,
Elisabeth Naughton
traded in her red pen and test-tube set for a laptop and research books. She now writes sexy romantic adventure and paranormal novels full-time from Oregon, where she lives with her husband and three children. Her work has been nominated for numerous awards, including the RWA RITA© Award, the NJ RWA Golden Leaf, and the RWA Golden Heart. When not writing, Elisabeth can be found running, hanging out at the ball park, or dreaming up new and adventures. Visit her at
www.elisabethnaughton.com
and follow her on Twitter, @ElisNaughton.
ENSLAVED BY ELISABETH NAUGHTON – IN STORES NOVEMBER 2012


"Do not miss this series."—New York Times bestselling author Larissa Ione




GRYPHON—Honorable, loyal, dependable…tainted. He was the ultimate warrior before imprisonment in the Underworld changed him in ways he can't ignore.


She calls to him. Come to me. You can't resist. But Gryphon will not allow himself to be ruled by the insidious whispers in his head. And there's only one way to stop them: kill Atalanta, the goddess who enslaved him. But with so much darkness inside, he can't be sure what's real anymore. Even the Eternal Guardians, those who protect the human realms and the gods, want to exile him.


Finding Malea is like a miracle. Somehow he doesn't feel the pull of the dark when she's near. And he's determined to keep her as near as possible, whether she wants him close or not. But she's a temptation that will test every bit of control he has left. One that may ultimately have the power to send him back to the Underworld...or free him from his chains for good.




Praise for Elisabeth Naughton:

"Entertaining and smoldering." —Publishers Weekly, starred review of Tempted


"Creative worldbuilding and ever-present danger pull the reader into this mesmerizing tale." —RT Book Reviews, 4 ½ star review of Enraptured